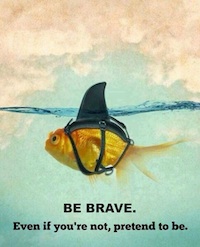 "Be brave."
Those words were spoken to me many moons ago by my CW, QRP and outdoor radio sensei Jim Cluett, W1PID.
He wasn't talking about the Zombie Shuffle, a fun low-intensity contest that's held each year on the Friday night that's closest to Halloween.
This year the shuffle was on Halloween Eve, a perfect dark evening to have some great fun.
Jim's advice about courage had to do with getting on the air and wandering into the jungle of invisible radio waves as a CW beginner.
Believe me, it can be a scary place.
But last night, I was brave. Unbeknownst to me over the past two weeks, I had reached yet another plateau on my long and arduous CW journey.
I was about to discover I finally had listening skills that would allow me to have the most fun yet on the air. And fun I had!
Last year I signed up for the Shuffle and was lucky enough to garner a very special number. Zombie numbers are given for life.
Mine was 1111.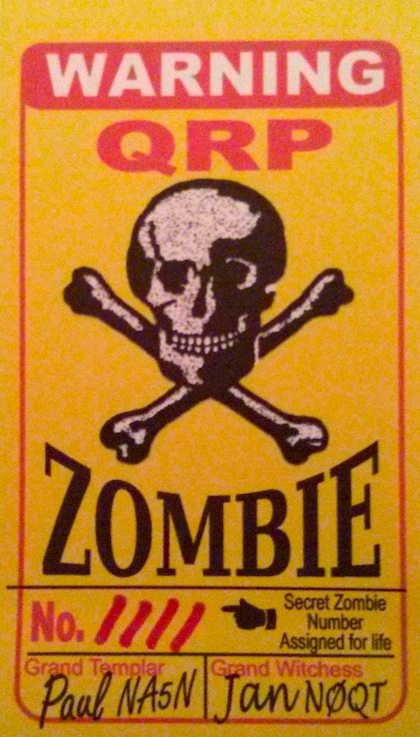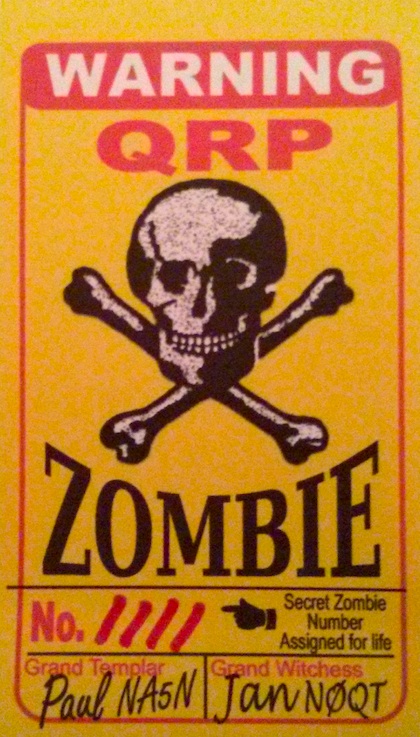 How Fast?
The two ghouls behind the Zombie Shuffle are Paul and Jan Harden, NA5N, and N0QT. They refer to themselves as the Grand Zombie, Grand Witchess, and Contest Coroner.
I want to thank both for creating a special memory for me. Prior to last night the most QSOs I'd ever done on one day were three, maybe four.
In just over two hours last night, I'd do thirteen.
Yeah, if you're an experienced pro, you can do 100 or more Qs in two hours, but years ago you were where I was last night. You didn't start out doing CW at 30 WPM.
But I digress.
The shuffle is a fun contest. It's not meant to be a high-speed adrenaline-filled sprint or like the madness of Field Day.
"There is no point to the Zombie Shuffle whatsoever except to get on the air and have fun with fellow Zombies and QRPers.  Even with only 2-3 QSOs, you can earn a fairly large score to brag to your co-workers and QRO buddies.  If you haven't been on the air for a while, or you are a new CW ham, your fist is "rusty," or your code speed is slow, this is the "contest" to put a few contacts in the log.  Note that the scoring is based on SERENDIPITY rather than operating skill."
That's the philosophy of the contest taken right from the Zombie Shuffle website.
I was sending at 12 WPM with a spacing of probably 10 WPM. Everyone who I worked slowed for me and I was able to copy 98 percent of everything sent. I was euphoric.
Sundown
Moments before sundown last night, that's when the contest starts no matter where you live, Jim called me.
"Do you want me to work you right now on 3.560 for the Zombie Shuffle so you don't get skunked?"
"What? Oh my gosh! That's right, the contest starts in just a few minutes. I forgot about it! Thanks for calling! And NO, I don't want to work you now. I'll not be begging for QSOs tonight. I emailed you my goal of ten Qs. I'll do just fine without you."
What was he thinking? Well, when viewed from his perspective I've not been putting in the requisite time to become a skilled operator.
But Jim doesn't know me that well. When I decide to do something, I do it. The issue with CW is that I'm still a working stiff and a few other things have nudged me away from the key.
Score!
I hung up the phone and rushed up to the shack.
Quickly I reviewed the frequencies, made a crude logbook in my notebook and turned on the radio.
I started out at 40 meters because I thought that would be alive at this time of day / pre-night.
I wasn't disappointed. I went to 7.030.30 and started to call CQ.
Because I'm a rookie contest grasshopper, I did my CQ wrong.
Here's what I sent: CQ CQ CQ BOO W3ATB W3ATB K
What I should have sent was: CQ BOO W3ATB W3ATB K
Oh well, the pros knew what was going on and were gentle with me.
Within a few minutes, N8RVE came back. BOOM!
I had my first Zombie QSO.
Then another, and another and another.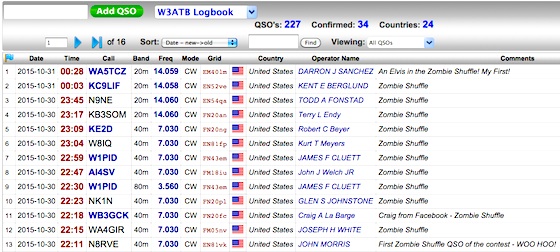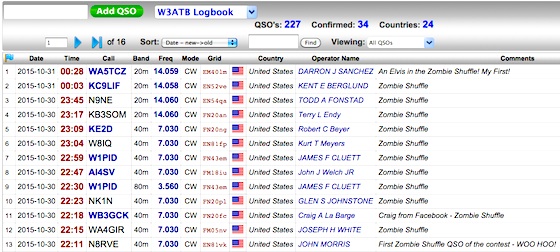 I can't remember if Jim texted me or called me, but over the next hour I'd text him at least five or six times and we'd talk on the phone a few times.
I was so excited I was telling him what was happening.
Early in the contest, I had five or six QSOs to his one!
Hah! We eventually worked each other on both 80 and 40 meters. You're allowed to work the same station more than once so long as you're on different bands.
Time passed quickly. Before I knew it I had been on the air for over two hours with just a 10-minute break for dinner.
Jim knew I'd love to work an Elvis in the shuffle.
Elvis and Elvira stations are operators who you can work to get 666 extra points.
Jim found WA5TCZ on 20 meters and texted me.
After several attempts, he finally heard me and was extremely patient as I was battling lots of fading – QSB.
By 8:30 pm I was tired. What's more, my body chemistry was changing as the adrenaline that powered me two hours before was being neutralized in my veins.
It didn't matter. I had a grin on my face as big as any carved pumpkin in central New Hampshire.
It was a night I'll never forget and there's much to be said about being brave.
You can be brave too.