"I just QSOd Devil's Tower, Wyoming NPOTA – MN23, 14.275!!!!!! Wa-hoo! Another park, and a first for me to Wyoming!!!"
That's the text message I received from Aleda Nichols, KC1CCU, last night as I was relaxing in my living room after dinner. If you were to meet Aleda you'll notice right away she's a shy person, but her passion for amateur radio is deeper than the Mariana Trench.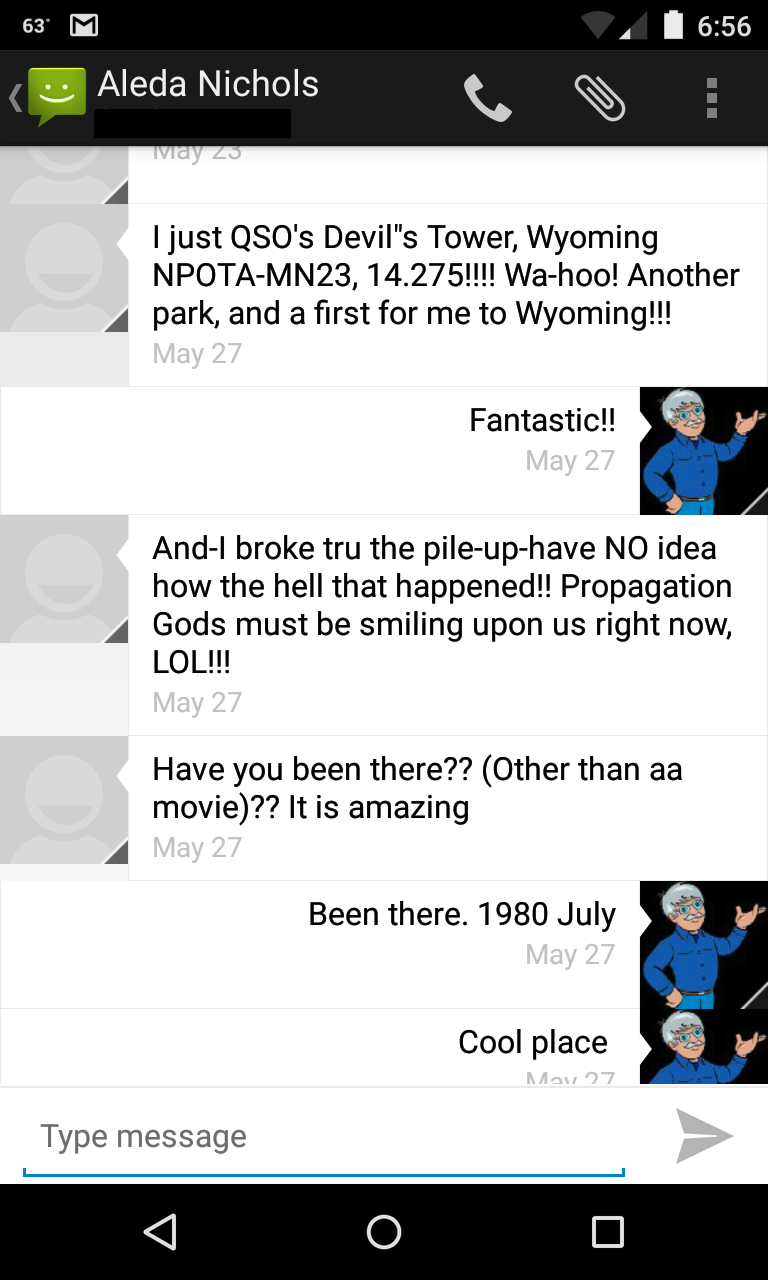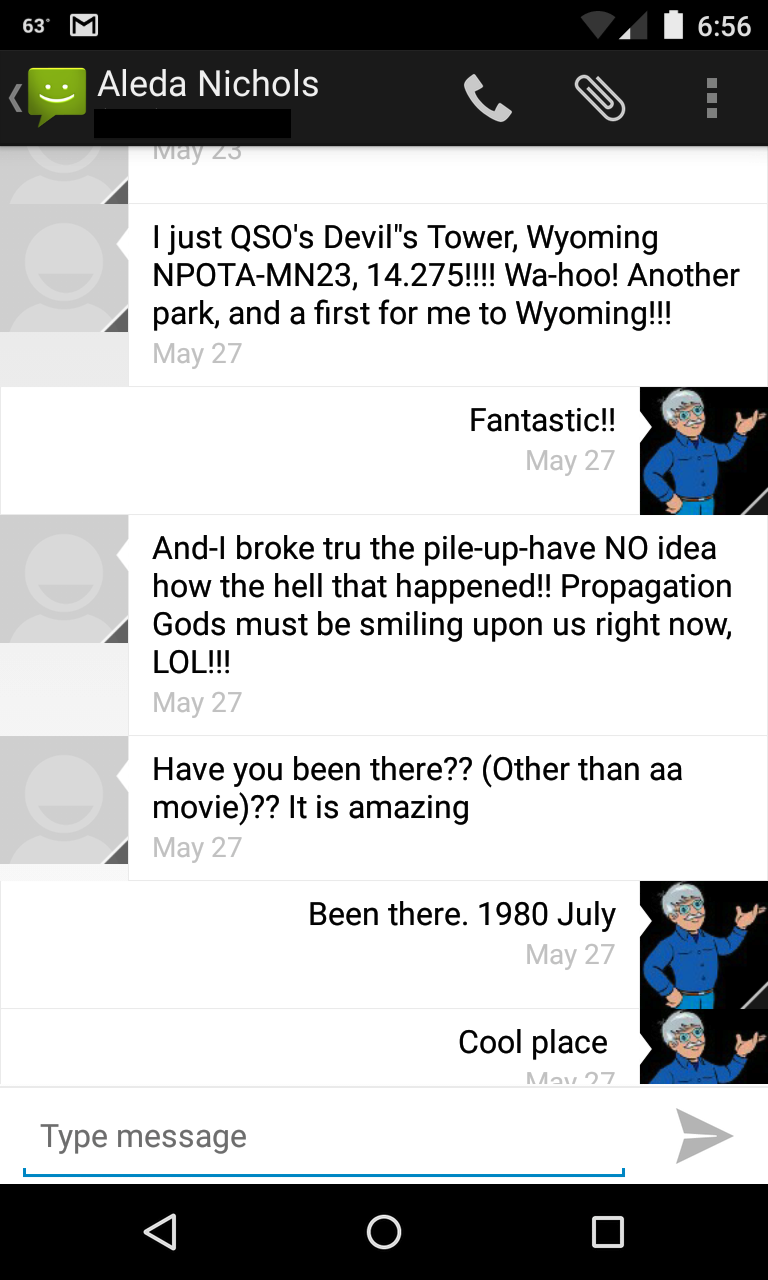 Just hours before I had sent out an email to the 100-plus members of my Central New Hampshire Amateur Radio Club prodding them to get involved with the National Parks on the Air (NPOTA) event that's being sponsored by the American Radio Relay League (ARRL). The NPOTA event is helping to draw attention to the 100th anniversary of the National Park System.
Dormant Operators Erupt
Aleda's not the only operator that's excited about NPOTA. There are hundreds, actually thousands, of licensed radio operators who have been touched by the magic of NPOTA.
Yesterday on the ARRL's NPOTA Facebook group page, Norm Fusaro wrote, "Who among the group has gotten someone interested in ham radio or enticed a dormant ham to get active through NPOTA?"
One of the comments was from Laura S.
She wrote, "I myself was dormant. I hadn't turned the radio on in years. Now I spend almost everyday in front of it chasing! In two weeks I have had 58 different parks confirmed… I'm thinking I have a problem now."  😉
Think about that for a moment. What would make a woman who's not touched her radio for years, sit down and then flick on the switch?
There are plenty of contests, special event stations transmitting week in week out and other things happening but these didn't do it for her.
It was NPOTA.


What's the mystical allure of NPOTA that's creating the buzz among those that are participating in it? Can you think of a past radio event that's created so many new friendships in an atmosphere of robust, but toned-down competition?
Ask ten different operators and you'll undoubtedly get ten different answers. But here's my take as a relative newbie to the hobby.
NPOTA appears to have taken the best parts of contesting, Summits on the Air (SOTA), outdoor radio both medium and low-power, social media and stirred it up in the cauldron with Logbook of the World to create a powerful elixir that's spreading happiness from sea to shining sea.
On a Personal Level
I was immediately attracted to NPOTA when it was announced. My passion for the hobby is QRP outdoor radio, but I've only been doing it for just under three years. What's more my operating skills are minimal at best.
The high speed and stress of normal contests are not fun for me. Some who participate in them seem to have a blood lust.
I had dipped my toe in SOTA a few years back activating a hill I can see from my home, Belknap Mountain, and I liked it. It was easy to visualize setting up my radio at one of the hundred or so NPOTA sites around the USA. No doubt it would be fun and relaxing.
Two seasoned operators and I decided to do a NPOTA activation back in February when Mother Nature dished up a delightful day when normally the weather could have been bitter cold here in New Hampshire. We drove to one of the three NPOTA units here in New Hampshire – Saint Gaudens – and were blessed with an intense pileup.
I was hooked immediately. I decided at that point I was going to activate as many sites as I could during the rest of the year. A month ago I was days away from activating Yosemite National Park soon to be followed by Death Valley and Joshua Tree.
Social Media
The ARRL set up an official NPOTA Facebook group and it's an online version of the Cheers bar but without a closing time.
Stop by and you'll discover spotting announcements the moment someone gets on the air at a NPOTA site. Plans for future activations are announced. And just like you'd find at any bar, you'll have one or two unloading a small heap of their frustration or trouble that happened hours before.
The Facebook group page has allowed me to connect with more than one new operator and I think I've made quite a few new friends for life. I'm thankful to the ARRL for creating the NPOTA event and all the things connected to it.
NPOTA has become a touchstone for many in amateur radio and I predict it will be long remembered as we float down the river of time.
If you're one of those dormant operators like Laura, I urge you to get on the air now. Experience the thrill of controlled chaos while in a pileup.
Be brave and do an activation. Get outdoors and experience the unparalleled beauty of our great national parks and historic sites while snagging signals out of the ether.
As Yoda said in one of the Star Wars movies, "Do or do not. There is no try."