Welcome to W3ATB.com!
I'm a professional writer that likes to dabble in amateur radio. I feel I know about 0.0000001 percent of all the knowledge that's out there about the hobby. Each day the more I talk with seasoned hams, the smaller I feel. Most days I feel about as big as a chromosome.
Even though the hobby is so very complex, I still derive enormous pleasure from what I do while on the air.
I was originally licensed on March 11, 2003 as KC8VYI. A little less than a month later I applied for and was granted my vanity call sign built around my business – AsktheBuilder.com. Get it?  WWWATB – W3ATB.
On June 12, 2012 I upgraded my ticket to General Class. The biggest problem at that time was  I didn't own an HF rig.
The founder of the Central New Hampshire Amateur Radio Club, Dick Christopher, N1LT lent me an Alinco radio that gathered dust for a while. Finally in February, 2013 I turned it on and started to send a little CW.
I'm in the final stages of creating a pretty sweet ham shack in the attic of my garage, and have a new ICOM-7000 that will allow me to hopefully do a QSO with you. I've got a nice multi-band dipole antenna that goes up to 80 meters, so I should be able to hear you pretty well with it being nearly 40 feet in the air. That's not perfect, but it's as high as I can get it.
On February 28, 2016 I fulfilled a goal I'd had for about four years. I aced my Amateur Extra exam. It's a thrill to have made it to this level in the hobby.
If you like trading QSL cards, I'm your guy. I love getting the real deal in my mailbox. My daughter Meghan created a very nice QSL card for me. I want it to be a surprise so I'll not share the front of it here.
Recently I started blending ham radio with hiking. I did my first SOTA activation in August of 2013. I can tell you more of that's in my future, especially when I have a QRP CW rig I can set up on some of the mountains here in New Hampshire, USA.
In the spring of 2016 I had Jim Massara, N2EST, create a delightful cartoon QSL card for me. I love it and it captures everything I'm currently interested in. Check it out: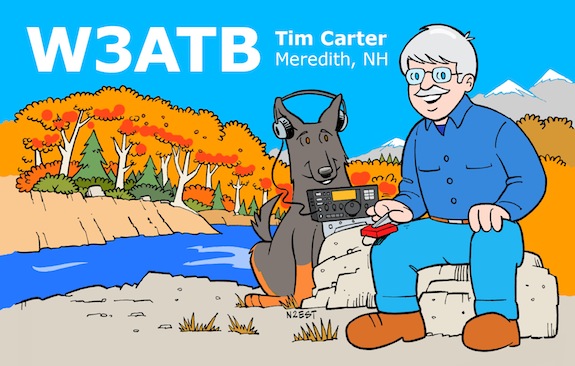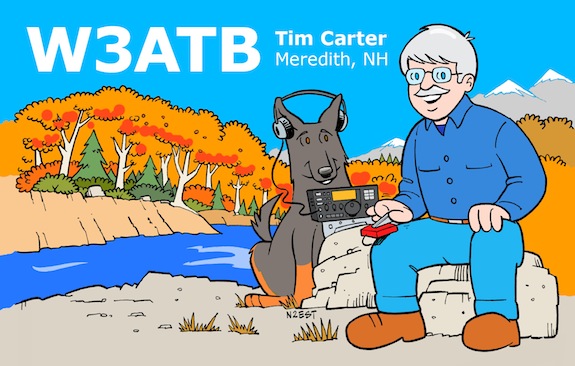 I like doing public service work. This is me two years ago on the side of Mt. Washington, NH.
I was also one of the many hams that worked the historic Boston Marathon the day the cowardly bomber brothers killed and maimed many. Read my story about that day.
I'm currently very interested in CW and am struggling to do better.
73 to you and hope to catch you on the air.
Tim Carter