Yesterday my good friend Jim Cluett, W1PID, and I got a respite from the bitterly cold winter that's gripped central NH like an eagle's talons hold onto a fish plucked from Newfound Lake. We basked in glorious warm sunshine at the base of a tiny ski hill with the temperature nudging 50 F. To put this into perspective, just a week before it was -10 F with a howling wind.
Veterans Memorial Ski Area – A Piece of NH Ski Hill History
Veterans Memorial Ski Area is located just a few miles east of downtown Franklin, NH. It's a remnant of NH history when there were numerous small ski hills that dotted the state. This little hill only offers 230 feet of vertical drop, but it's exactly what a beginner skier needs to learn the basics.
The ski hill is only open on the weekends and winter holidays and is staffed by volunteers. It's a perfect place to do outdoor radio Monday through Friday. Our local radio club has a repeater at the top of the ski hill so we're welcome to visit the property to pluck invisible radio waves from the air whenever we like.
It was so nice to get out that I just stood in the sun facing the pure-white snow of this tiny ski hill for several minutes before walking over to the south-facing deck that's attached to the cozy little ski lodge at the base of the hill.
We knew we were going to be sitting at a picnic table on the deck so Jim brought his handy telescoping fiberglass mast. I provided two rubber bungee straps to secure it to the deck railing. A thin 29-foot wire dangled from the top of the mast. This wire was connected to a 9:1 unun.
Sharing an Elecraft KX3
Jim and I usually operate separately most of the year. On days like this where there's only one convenient place to sit, we set up one radio and pass the mini Pico paddles between us after we find someone calling CQ.
We decided to use Jim's equipment this time and he brought his Elecraft KX3. I had my Elecraft KX2 in my backpack along with all my other gear just in case we needed something.
20 Meters – The Go-To Frequency
As soon as Jim connected his 3 Ah BioennoPower lithium-iron-phosphate battery to the KX3, he fired it up and went to 20 meters. Twenty meters is an excellent daytime frequency for long-distance radio communications.
He spun the dial and it was as quiet as a reading room in a library. But Jim's a patient man and he kept hunting for a signal. Within minutes we were rewarded and heard Don, VE4ESE calling CQ. Don was staying warm in his house about 50 miles south of Winnipeg in Grunthahl, Manitoba, Canada.
Jim chatted with Don about the weather conditions. Jim's signal report from Don was a respectable 559. After completing his conversation, Jim handed me the paddles. I hesitated before sending Don's callsign and another operator jumped in before me.
Soaking Up the Sun
Normally Jim might scold me for not pouncing on Don immediately, but it didn't happen as we both were like lizards on a warm rock outcropping just soaking up the sun. We chatted about how this was a great area to set up in the winter, how it was a wonderful ski hill to use for sledding during the week and several other random topics.
The moment Don finished up with the other operator, I called him. Surprisingly he gave me a 549 signal report. I was a little miffed by this as seemingly nothing had changed. Yes, it's possible for the ionosphere to change in a matter of minutes, but I still was not too happy.
I handed the Pico paddles back to Jim and a moment later he spun the dial and discovered K4UY. This operator was spitting out Morse code at about 20 WPM, or more. I'm able to get about every third character at this rate and Jim knows this. Jim's received a 599 signal report which is as good as it gets.
While Jim was going back and forth with the operator, I'd write down what I heard in my Rite-in-the-Rain logbook. I clearly heard it when he sent his name – Ron.
Jim could see me out of the corner of his eye and said, "Did you catch his name? It's Fred."
"Yeah, right. I clearly heard Ron."
We both howled with laughter as Jim was trying to prank me so I'd say "FB Fred TNX for the QSO" when it was my turn in a few minutes. I was born at night, but not last night.
Once I got my chance to work Ron, it was a fast QSO and once again my signal report was lower than Jim's. Ron said I was a 579.
WTH?
Marine Mobile with Alvaro
Next up we got a dream QSO from Alvaro, IU1DUB/MM who was passing time while his large container ship, MSC Titanio, plied the Atlantic Ocean between Antwerp, Le Harve, Rotterdam, Caranias, and West African ports. It's always very exciting for me to have a QSO with an operator on a moving ship at sea!
Here are a few photos that were taken by Alvaro of his wonderful vessel and his antenna.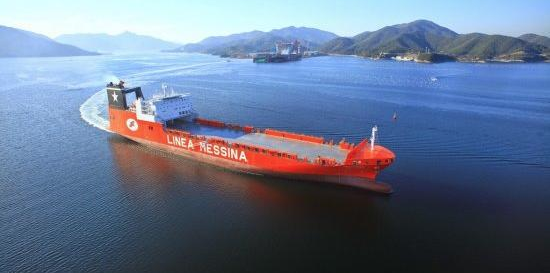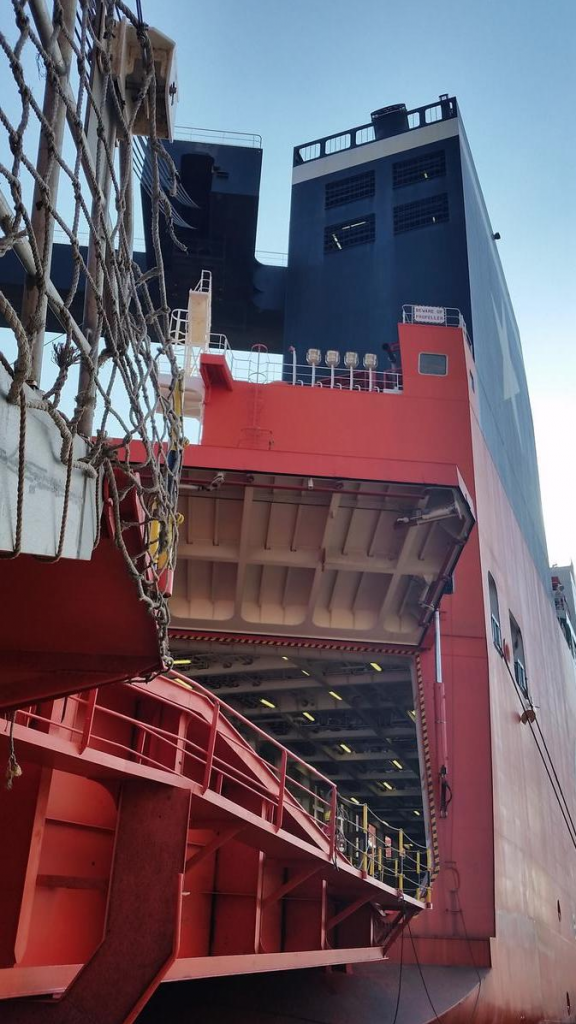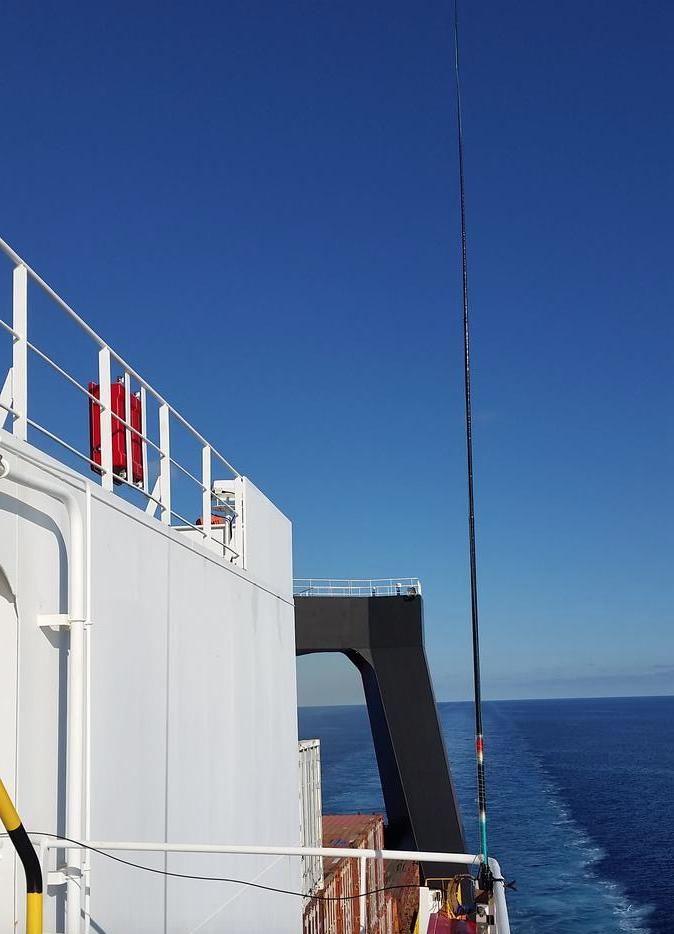 Alvaro gave me a 579 signal report that was less than what Jim's.
Then it dawned on me. Jim had been the control operator during the entire outing. Signal reports are a function of two things primarily:
the output power of the sending station

the fluctuating pulsing ionosphere
How easy it would be for him to turn down the KX3's power while I wasn't looking. If that were to happen, no wonder he was getting better signal reports.
He mentioned this possibility and I think the neighbors a half-mile away could hear us howling with laughter once again.
It's always a good time out with Jim, even if he pranks me. That's what friendship is all about, right?