Today I found myself in western Maine helping to get communications set up for a world-class racing event – the New England Forest Rally.
I was with two fellow hams, Mark Kerrigan – K1MLK, and Ryan Freise – KB1VLC. We had to drive from the Sunday River ski resort in Newry, ME up past Errol, NH to a narrow gravel road the racers would zoom down on Saturday July 18, 2015.
We were there to pinpoint the start and finish lines and the places where radio operators would observe the race. The day was drop-dead gorgeous.
Blue sky, low humidity and temperatures in the mid 70's F.
By noon our mission was complete and I had the rest of the day free.
On the way from Sunday River, we passed through Grafton Notch State Park. I saw a sign for Screw Auger Falls and decided that's where I was going to eat lunch and operate. The falls are in the Bear River that starts at the head of the notch.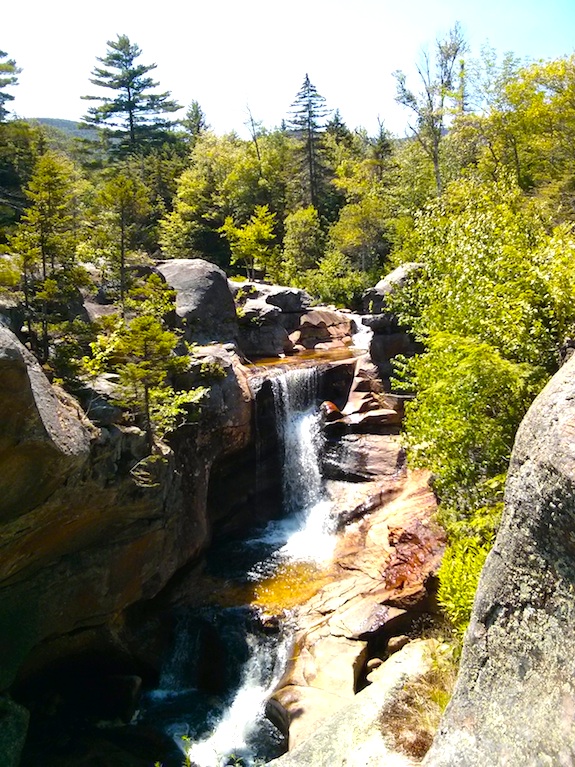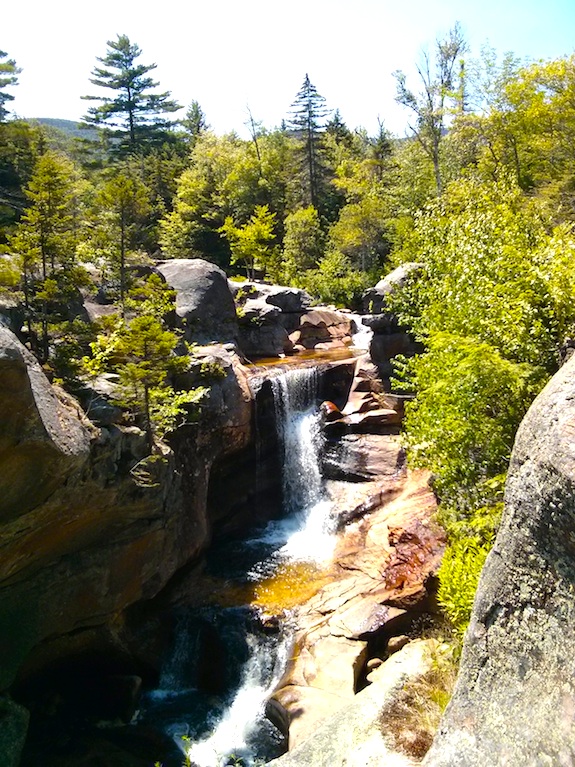 It turned out to be a wise decision.
This natural wonder was created by the retreating continental glacier about 12,000 years ago.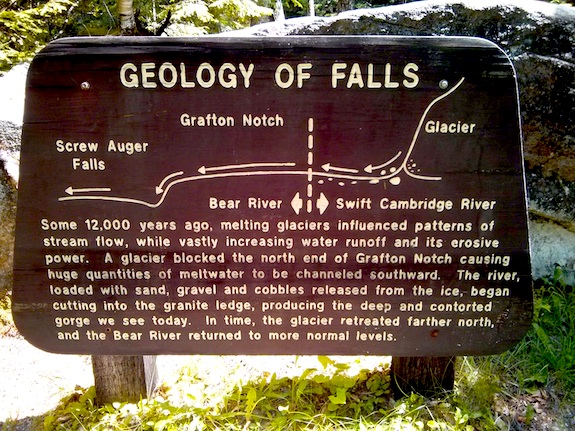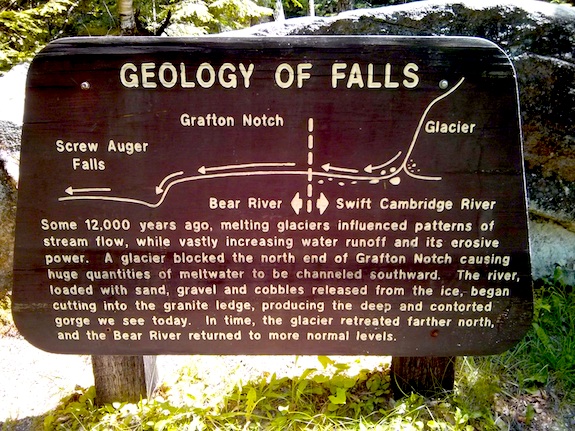 On this day I shared this magical place with families with small children who splashed and played in the crystal-clear water flowing down Bear River towards the falls.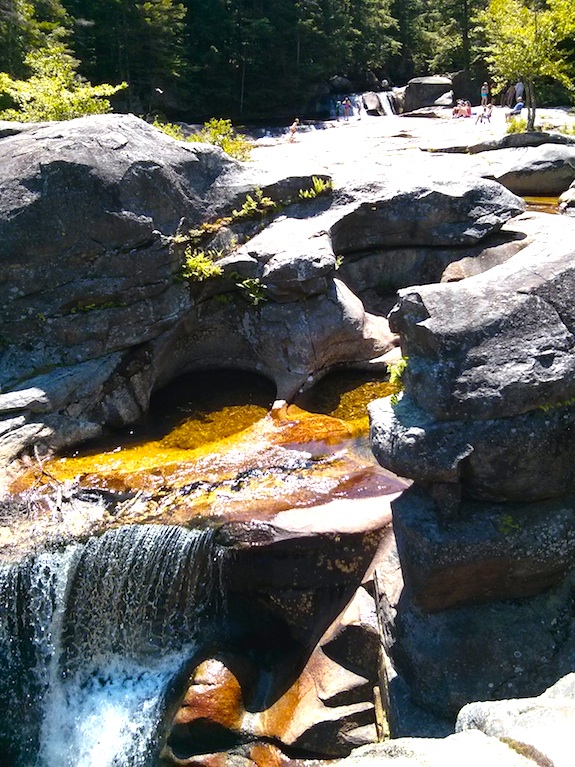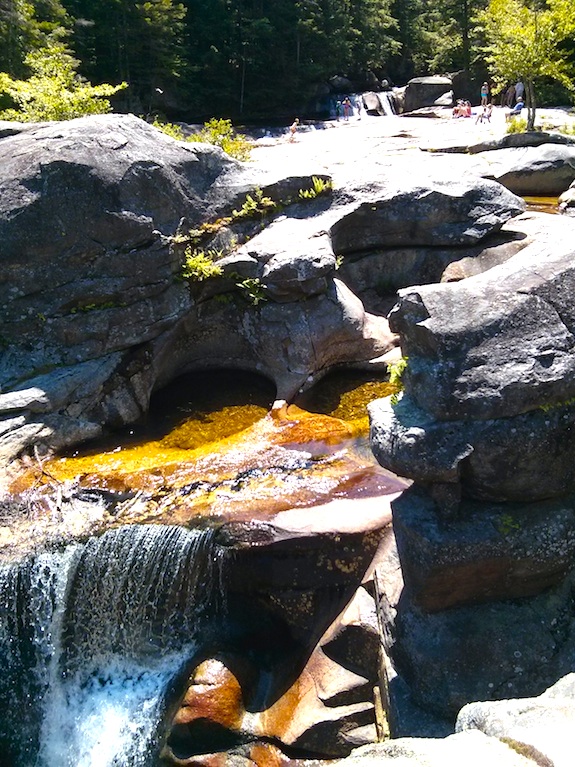 I'd say at least thirty or forty people were at or around the falls, but I found a place on the bare bedrock just above the falls where I could eat lunch listening to the water bounce off the majestic rock.
The solid granite resembled carved wood with the smooth grooves cut by the moving water those thousands of years ago.
While eating lunch I pondered what the sound must have been like when the giant glacier was melting and cutting away at the dense rock. How much water was flowing down over the bedrock? Was it like Niagara Falls of today? Was it even bigger? Who knows.
I also thought about my very good friend and mentor Jim Cluett, W1PID. Here I was on my first real solo outdoor radio adventure. There's no doubt he would have loved this place and I said a prayer that I would not get skunked. That's my goal now when I go out.
No skunks. I had plenty of time on this brilliant afternoon, so I was feeling good about keeping any skunks in the adjacent woods.
I was anxious to operate and wanted to get away from all the people. I walked up a trail into the woods and there were private eating areas along the Bear River with very nice picnic tables right at the edge of the small river's banks.
Each table was perhaps 60 feet from the other with plenty of trees to provide privacy.
I found an empty one with a perfect tall birch tree to accept my par EndFedz 10/20/40M antenna.
My first throw was perfect but my microcord line came undone from my special backpack retention hook and dangled in the air 9 feet above me. Drat!
I pulled down the line and three minutes later had my halyard up in the tree at the perfect distance for my 20-meter antenna height. The wire hung perfectly vertical next to the table.
Within minutes I had my HB-1B radio out with the micro Pico iambic paddles and my mini speaker attached. All of this fits into a tiny water-resistant plastic box.
Once I was set up and turned on the radio, I thought something was wrong. I heard absolutely no signals across the entire portion of the 20-meter band my license privileges allow me to work.
I decided to go down to the low part of the band just above 14.025 Mhz. That's where the pros are and maybe, just maybe, one might work me if he heard me.
I started to call CQ. I did it for ten minutes and there was nothing. No answer – nothing.
I rotated the tuning dial and went higher up.
Once again, I called CQ for probably eight minutes.
I got nowhere fast.
I then decided to go back down to 14.025.20.
All of a sudden someone answered back!
K1DW
His signal to me was very strong. The only issue was he was sending Morse code a little bit faster than my brain could process it.
I had his call sign correct. Of that there was no doubt.
I gave him a 589 signal report and he gave me a 389.
Alone there at the picnic table I savored not getting skunked.
When you operate outdoors as I do, so many things are against you.
But on this day, I walked back to my truck pleased. I had newfound confidence that I can just about get a contact from anywhere at anytime.
As Kenny Chesney says in his famous hit song, "Only time will tell, but it ain't talkin'."