On Friday, July 10, 2015 I was loading up a few last-minute things into my Super Duty Ford F-250 4×4 truck. At 8:00 a.m. I was supposed to pick up my good friend Jim Cluett, W1PID, at his home.
We were then off to Lobstercon! This event has been happening for nearly twenty years and it's a cozy gathering of ham radio operators that prefer to use 5 watts or less of power when transmitting. Sometimes some operators nuzzle up to 10 watts.
In ham radio, low-powered operation is referred to as QRP. That's a Q-sign meaning reduce power when transmitting.
I arrived at Jim's house a little early. That's always a good idea because his watches and clocks run about 15 minutes fast for some reason.
He was ready to go and his sweet wife Judy was helping us load up his gear and food. Little did I know at this point how much delicious food and fresh fruit she had packed for our little-man-self-discovery trip.
As we made the turn to get on I-93 south, I said, "We're going the scenic way. I don't feel it's a good idea to drive south to Miami only to then turn around to drive north to Maine."
"It's not Miami. It's Concord," Jim said.
Going to Concord would allow us to use roads that are rated for higher speeds, but Google Maps told me that the route I picked would get us there at the same time with less mileage.
Chatter filled the truck and the time passed faster than a bat swoops through the air.
By 10:45 a.m. we had arrived at the Thomas Point Beach Campground, the center of the vortex of Lobstercon. It was a handsome campground with fine manicured large lawns and many lofty trees that provided lots of shade and some pine pitch.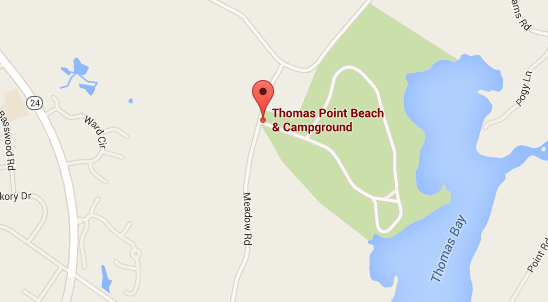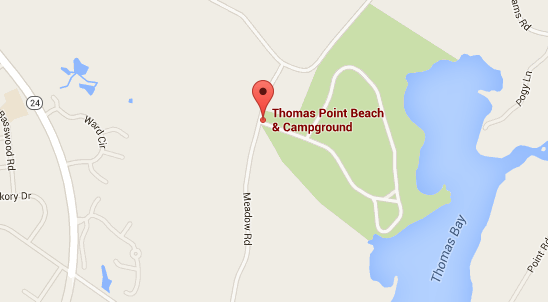 "Turn left here and drive past those trees. We want to camp over there as far away as we can from the others."
Jim was instructing me based on his past experiences at this festive event. This was my first time at Lobstecon and I was worried if there was some crazy initiation for first-time attendees.
Within a few minutes I had my tent up, but I had it pointed the wrong direction. It had been 40 years since I had really camped and slept in a small tent, so it was going to be a re-learning experience for sure.
I had a swell Eureka two-man tent with a wonderful rain fly. I bought it nearly twenty years ago for a father / daughter Girl Scout camping trip. For some reason the trip never happened and the tent had been stored safely for all that time.
Once we had our tents up, we went exploring to see who was there.
The first person I met was Carl Achin, WA1ZCQ. He has a forty-three-year-old orange tent he sleeps in and it was set up right in the middle of a large grassy area.
He's a very sociable person and told me all about his thin antenna up in the air and the *white reflector* on the ground. Most other people would have called the white wire laying on the ground a counterpoise. But I digress.
I got to meet Seab, AA1MY and his lovely wife Sharon. They were camping for a week and had a very cute small teardrop trailer that was ultra-compact. It have a delightful screened vestibule that would easily accommodate four chairs and a small table.
Soon it was time for lunch and Jim and I went back to our camp site.
"Judy made you a sandwich."
Oh my was I hungry and it was delicious. It was a vegetarian medley inside a pita bread. Boy did it hit the spot. I really loved the wonderful brown waxed paper it was wrapped in.
We then ate a few delicious cookies made by Judy.
The afternoon was spent visiting with many of Jim's radio buddies and I got to meet all sorts of radio icons and titans in the QRP.
The plan was to go to Cook's famous restaurant at the end of Route 24 on Bailey Island just the other side of the world-famous crib bridge between Bailey and Orr's Islands.
About twelve people went to dinner here from the campground and Jim and I sat at a table with Dave Benson, K1SWL and his wonderful wife Katie.
As we ate dinner the sun was getting low in the sky. This is when the color temperature is very warm and the crib bridge looked simple stunning.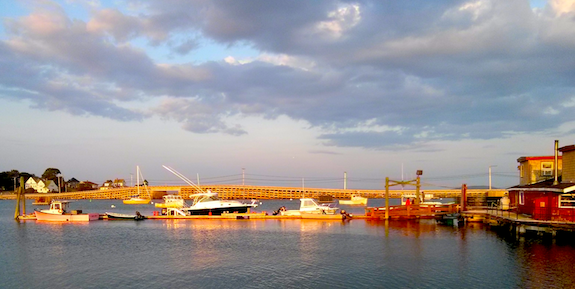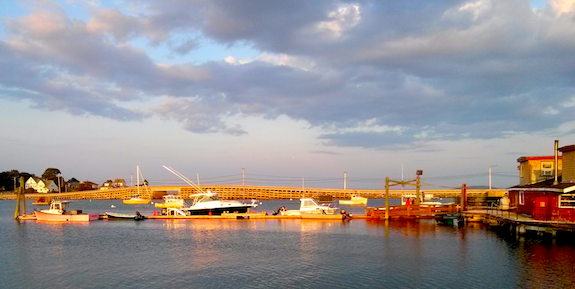 After we ate, we raced down to Land's End where Route 24 stops at the sea.
It's a very popular spot and some other locals or tourists were there too.
Jim decided to set up his radio to see what would happen.
The options for an antenna were bleak. He decided to attach his 27-foot wire to the open window of my rear cap. It was just 6 feet off the ground at that point.
The antenna then stretched across some small trees and who-knows-what down to the rocks just by the salt water. I'd say the average height of the antenna above the ground was maybe 4 feet.
I was down helping but had to leave because the mosquitos were thick as thieves and hungry.
Within a few minutes, Jim had worked three DX contacts all in Europe. I was astonished that horrible antenna would work. It must have had something to do with the proximity to the salt water.
After getting back to the campground we helped Seab get his sloper antenna soldered and working. We had started the project before dinner.
Just after getting it hooked up, I went back and went to bed. I was beat.
I was restless all night sleeping and although I had a nice inflatable pad, I was not comfortable. It could have been much worse had I just slept on the ground.
At 5 a.m. it was light but a nearby camper decided to fire up his Honda 2000-watt generator. They are renowned for being quiet, but believe me it woke me up and kept me awake.
By 7 a.m. Jim was up and we had a delicious granola and strawberry breakfast courtesy of none other – Judy!
The morning was spent with more visiting and introductions.
The event organizers had a wonderful lunch spread with burgers, hot dogs brats and all sorts of great dressings.
By 3:30 p.m. it was time to head home.
Jim had seen all his friends and I had my fill of the event too.
We didn't stay for the trademark dinner of lobster – the dish the event is named for.
Perhaps next year!
I recommend you attend Lobstercon 2016 if you want to meet some great people.
Hopefully you'll run into Arn, K0ZK. Ask him why he doesn't apply for the vanity call sign K0TNT. It's a great story.