Today it was 54 F in central New Hampshire at Profile Falls, just south of Bristol, NH when Jim Cluett, W1PID and I decided to take my new Elecraft KX3 radio out for it's outdoor christening.
Normally the outdoor temperature would be 20 F or lower and there could be 3 feet of snow everywhere you look.
Experts say it's been the warmest winter in living memory. Overnight a strong storm blew through the area bringing heavy rain and rising temperatures.
We decided to set up in the nice picnic shelter knowing the tables would be dry. The Smith River is immediately adjacent to the shelter and it was swollen with icy raging water from all of the overnight rain and melting snow.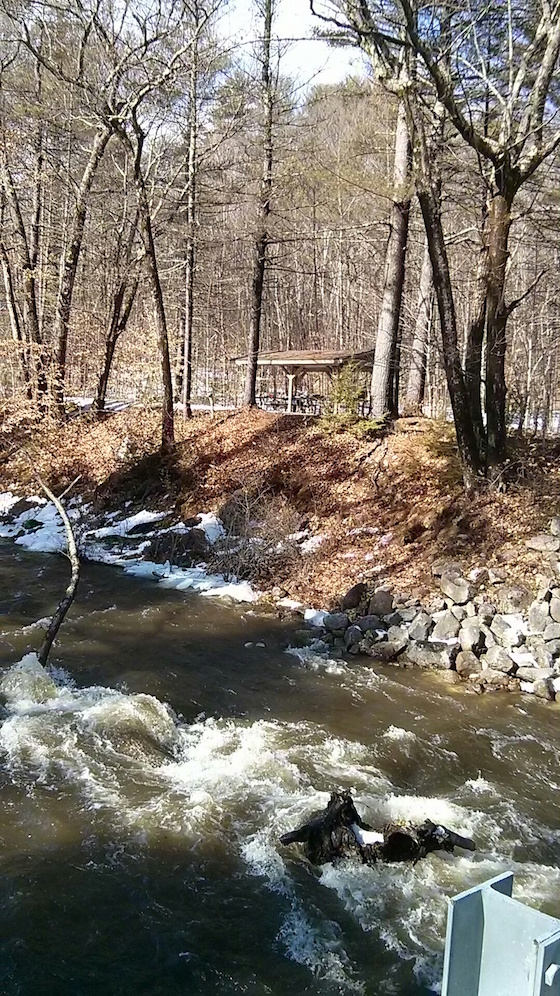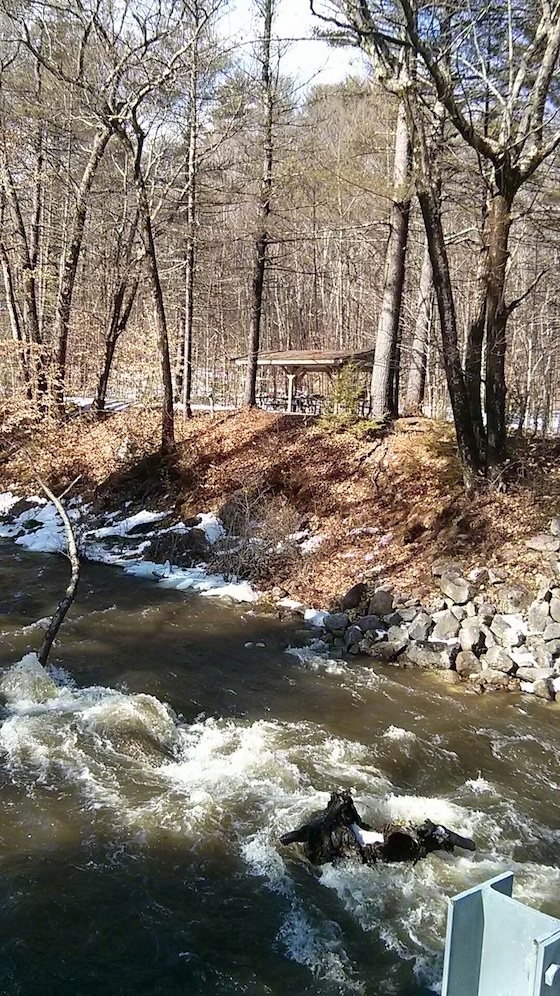 We used Jim's 29-foot wire antenna and 9:1 unun. It was hanging from a branch right over the shelter. Fortunately the air temperature was warm so Jim's fingers didn't get cold as he was putting up the antenna.
Prior to leaving for the outing, I had contacted Carter Craigie, N3AO and asked if he was going to be around. He responded he would and he'd listen up for us on or around 14.060.
After a few minutes of me hunting for anyone on the air and calling CQ a few times, I heard N9ZXL calling. I answered back, but he didn't hear me. Such is outdoor radio!
Jim took over and made a few adjustments on my radio.
I got up and stood in the glorious sunshine looking down at the raging water of the Smith River.
Within a few minutes, Jim was on the air with Carter Craige.
"Where's Tim?" Carter sent.
He wanted to chat with me, not Jim. Jim's worked him countless times.
I sat down and Jim handed me my mini Pico Paddles.
Carter slowed down for me and I could hear every character.

After our quick QSO ( an amateur radio acronym / slang for conversation) ended, Jim took over and tried to work a very strong DX station from Kuwait, but it was not to be. Jim had worked the operator before, but today he couldn't hear Jim's return signal.
We decided to pack it in and it's a good thing we did. Within the hour a brief rain shower was upon us.
It was exciting to work Carter Craigie, a new friend I met eighteen months ago at the ARRL Centennial Convention.
If all goes well, my new KX3 is going to get lots of exercise in the upcoming warm months that are just ahead!