Yesterday, December 16, 2015, I received a message within Facebook from a new friend, K1QO – Ann Byers. She had also included Dave Benson, K1SWL in the tiny direct message.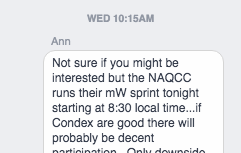 When I first saw it, I was not too interested. There were a couple of reasons, the first being my track record in contests is dismal. My CW listening speed, on my best day, is just barely 12 WPM.
I did have my first real contest success two months before during the Zombie Shuffle, but my understanding is that it's just a very low-impact event.
When I turn on the radio on the weekends the exchanges I hear are as fast as a peregrine falcon in a full tuck position as he screams down from the sky to grasp his next meal with his sharp talons.
Contests are not for the faint of heart is how I felt when I read Ann's message.
The second reason is after 6 p.m. I'm usually brain dead. By 8:30 p.m. on most evenings I'm comatose as I love to get up around 5 or 5:30 a.m. How could I even concentrate on code in that condition?
The Hook
I decided to go to the NAQCC page describing the contest and there it was, the hook.
RULES specific to this month's sprint:
Operate at 1 watt or less (the lower the better) to be eligible for any awards or prizes. Others welcome to participate and submit check logs.
Date and time:
Thursday, December 17, 2015 0130-0330Z
Okay, you got me. I've never operated at one watt, much less milliwatts, so this could be interesting to see if anyone can even hear me, much less I hear them!
0128Z
I was in the shack after having a delicious bowl of fresh home-made Italian vegetable soup Kathy made. Moments before, I completed creating a crude spreadsheet on a cheap school notebook. It had six columns to record the data of each QSO.
I decided to start out on 40 meters and just before the start time I heard someone calling CQ SW on 7.030. I didn't write it down, but I'm pretty sure that's what it was. That wasn't anyone with the NAQCC sprint because the call out was supposed to be CQ NA.
The moment the clock on my IC-7000 said 1:30 I started sending CQ on 7.033. I got nowhere fast for about five minutes. No one came back.
My initial thought was that my ICOM radio power meter was possibly wrong. I had adjusted the power level to 1 percent which is supposed to equal 1 watt. But maybe I wasn't transmitting at all. How was I to know? I'm sure there's a way, but I'm not there yet on my amateur radio journey.
I decided to switch to 80 meters and went to 3.561 as a QSO was in progress on 3.560.
I sent out my CQ NA two times and BOOM someone came back!
It was W2JAZ in NJ.
Then it happened. A pileup.
I'm talking one of those pileups you see each winter on TV when 20, 50 or 90 cars and trucks plow into each other on the interstate highway in a blinding snow squall.
Once I finished up the fast RST, state and power exchange, they descended on me like ticks as you waltz through tall grass in the spring.
There were so many competing signals I couldn't pull any one out. I sent back a question mark.
That did no good as the vultures just came in that much faster and more aggressive.
I panicked. Not knowing what to do, I turned the dial to stop the cacophony of code.
I was very embarrassed because everyone knew who I was and no doubt they were about ready to send "LID".
I took a breather and immediately texted my CW and outdoor radio mentor W1PID. He said to go to 3.563 and we worked each other. We're only about seven miles apart and his signal was a mere whisper as mine was to him, but we did complete the exchange.
The Log
I was excited! I was working stations, they were hearing me and I could understand what they were sending. Maybe, just maybe I can do a contest or two!
Here's my log:
| | | | | | |
| --- | --- | --- | --- | --- | --- |
| Freq | Call Sign | RST | State | Power/# | Time – UTC |
| 3.561 | W2JAZ | 579 | NJ | 700mW | 1:39 |
| 3.563 | W1PID | 519 | NH | 1W | 1:44 |
| 3,561 | K3WWP | 559 | PA | 2 | 1:57 |
| 3.561 | W2SH | 599 | NJ |  ??? | 2:04 |
| 3.561 | K1SWL | 579 | NH | 1W | 2:05 |
| 3.561 | W8RTJ | 539 | OH | ??? | 2:10 |
| 3.561 | N4FI | 529 | VA | 104 | 2:15 |
I was unable to copy the power or NAQCC number of two of the operators due to my excitement, the floor noise and my tinnitus. But it doesn't matter to me because I was stoked about my success!
I decided to call Jim Cluett, W1PID to tell him about what had happened.
"You're fibbing."
"No! I did work seven stations including you!"
"I only had one. I couldn't hear anyone and shut off the rig. I guess now I have to call you 'sir'."
We hung up and I sat and collected my thoughts basking in my success.
I pondered for a moment. I wondered if I hadn't discovered a new trick with respect to contesting.
Jim has taught me over the past three years his search and pounce method of operating. He turns the dial of his KX3 out in the field and if he hears a strong station, he pounces on them getting a QSO.
Well, what if everyone is doing what Jim does? If everyone is listening and no one is transmitting, then I guess you wouldn't hear anything.
Jim told me I was holding court on 3.561 and that's not a bad thing to do when contesting.
Now I just have to figure out what to do when they come. It's sort of like the classic movie Field of Dreams.
"Send it and they will come, Tim."
We shall see as I now am much braver and feel I can compete in a contest.
Thanks Ann for telling me about this contest and maybe next time you'll be in my log!