Last year the first day I operated outdoors was on March 17th. My outdoor radio colleague, Jim Cluett, W1PID was itching to get out because it's been such a wretched winter here in the Northeast. The brilliant sun spoke to Jim in the morning like a singing siren serenades a sailor.
We were soon both to discover that Mother Nature can be such a teasing temptress.
We had to hike about a quarter of a mile from the parking lot at Profile Falls to the edge of the Pemigewasset River. The walk through the woods was magical even though you had to look down almost all the time to stay on the narrow hard-pack snow trail. If you strayed from the trail, you post holed up past your knee in cold snow.
Today the only condition that was the same was the sun. Last year it was 37 F and today it was 21 F. Last year there was no wind, this year a stiff breeze was lashing Jim as he was trying to get the halyard up into the tree to pull up my par end-fedz antenna. I was busy getting my HB-1B rig set up.
I've discovered working with Jim in cold weather that you need to waste no time getting antennas up into trees. If your fingers get cold, it's hard to operate and the fun of the adventure diminishes as rapidly as water puts out fire.
Once the antenna was connected, I started to check the 20-meter band for activity. It was dead to me only because I had the filter on the HB-1B set too tight. Jim rotated it counterclockwise and then we could hear operators.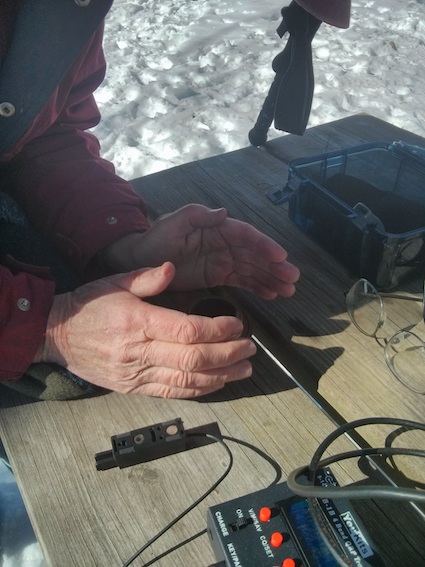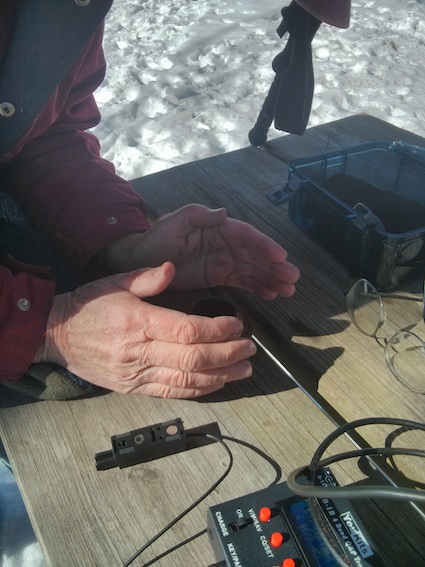 While I was trying to find a strong signal, Jim got out his small camping alcohol stove and lit it with a match.
It was just what we needed to take the chill off our hands. We both had thick wool mittens and gloves and it's just about impossible to operate the radio and paddles with them on.
"Do you want to go? Are you cold?" Jim asked me as I was tuning around.
"No way. We're not going to get skunked," I replied.
Jim scored first lassoing NM2L/M. He was 599 into us and he gave Jim a 599. "I'm all warm now after that QSO, so it's your turn!" QSOs do that to Jim. He loves CW contacts.
Moments later I was able to sneak in my call to W9JVW and he came back. He gave the little HB-1B a 459 and I gave him a well-deserved 579.
"Let's get out of here!" Jim didn't get an argument out of me.
As we walked back towards the car, we stopped in the large field to just soak up the sun. The wind had died down a bit and the rays of the sun revived us and erased the pain we had just ten minutes before.
It didn't take long to get back to the car and we both agreed it was the lower limit of us being able to operate outdoors.
Without the sun, it would have been impossible. In just a few weeks, bare ground will start to appear and our operating options will be as broad as the side of a battleship!