Official Cookie Crumble QRP Contest Page
The Cookie Crumble Contest is a fun QRP contest inspired by the popularity of Emily Saldana's – KB3VVE – chocolate-chip cookies during the 2016 ARRL – National Parks On The Air (NPOTA) event. Emily, for the rest of time, will be known as the Cookie Queen – a moniker given to her by one of the NPOTA participants
Your quest, should you wish to accept it, is to travel throughout the kingdom to *find and eat* as many cookies as possible during the five-hour contest.
When:

Sunday

–

June 11, 2017 

Time:

 

1700

 to 2200Z

Mode:

SSB, CW & Digital (any/all modes)

Bands:

160, 80, 40, 20, 15, 10, 6, 2 meters and any UHF band you want to munch on

Power:

 

5 watts max for CW & Digital  / 10 watts max SSB

Exchange:

 

RST / SPC (state, province, country) / Cookie # / Name

Suggested CQ:

  "CQ CC" or "CQ Cookie Crumble Contest"
Contest Recipe, Rules & Requirements
The Cookie Crumble Contest is intended to be a fun, low-stress contest that builds friendship and improves operating skills. No gluttony permitted at any time.
Because it's a QRP contest, expect to find most of the activity around the common QRP watering holes. CLICK HERE for a list of them.
Cookie Crumble Numbers:

Digestion and maximum RF pleasure is aided by becoming a *cookie*. You do this by obtaining your Cookie Crumble number.
Your number is assigned for life or until such time as you have to have your stomach pumped for eating too many cookies. Numbers start at 100 and proceed in order as operators request them to infinity.
Sorry, no special requests for numbers.
Apply for your Cookie Crumble Number by sending an email to: tim@w3atb.com
Be sure you list your name, call sign and preference of either dark or milk-chocolate chips. Subject line of the email should be: Cookie Crumble Number
Special Cookies:

Each year there will be special cookie operators out in the ether kitchen. Some you want to find and others you want to avoid.
Cookie Monsters are your friends. When they say their name is "Monster", you'll know you've found one. Yummy!
Do a QSO with a Cookie Monster and your point total for this QSO is 13 (baker's dozen) times the monster's cookie crumble number!
Do the math, it's a huge number! There will be multiple cookie monsters so find as many as possible.
Burnt Cookies should be avoided. They taste terrible. Do a QSO with a Burnt Cookie and put a minus 50 points next to his call sign on your scorecard. UGH. You'll know when you've bit into a Burnt Cookie when he sends his name: BURNE
To volunteer to be a Cookie Monster or a Burnt Cookie, send a request to KB3VVE@gmail.com
SCORING GUIDE:
SSB contacts are 1X the cookie number of the station you worked. If they have no cookie number, all you get is one point for that contact.
CW and digital contacts are 2X the cookie number of the station you worked. If they have no cookie number, all you get is 2 points for that contact.
Portable stations add 350 points to their total score.
You can work the same station on multiple bands during the contest and each QSO on a different band adds to your total.
Your total score at the end of the contest is the TOTAL of:
point value of each QSO

extra points from consuming Cookie Monsters

minus points from biting into a Burnt Cookie

extra points from Facebook participation – see below
To get the maximum points available, it pays to:
Work as many cookie stations as possible

Find the Cookie Monsters

Avoid the Burnt Cookies

Participate in the official Cookie Crumble Contest Facebook page
Sample Scoring Summary:

You work five other "cookie stations" with the following cookie numbers:  105, 123, 245, 178 and 196. This totals 847 points.
Station # 178 was a Cookie Monster!  178 x 13 equals an extra 2,314 points!
But station # 123's name was "BURNE" so subtract 50 points.
You post a photo of yourself biting into a cookie on the official Cookie Crumble Facebook page. Add 425 points
You happen to have gotten an A+ in high school English based on your poetic skills and used this skill to post a limerick on the Cookie Crumble Facebook page. Add 225 point additional points you Longfellow!
Do the math:
847 + 2,314 – 50 + 425 + 225 = 3,761 total points
CLICK HERE (not yet ready) to download the official Cookie Crumble Contest Scoring Spreadsheet. All traces of chocolate and sugar have been removed.
Once you have completed the spreadsheet, send in your total points to Emily Saldana at: KB3VVE@gmail.com
Log Submissions:
Please submit your log for public praise or humiliation by July 31, 2017. Remember, this is a FUN and low-stress contest. Who knows, the lowest scoring operator may get a package of cookies in the mail!
SPOTTING:
You can self spot. Self spotting is ENCOURAGED to build awareness of the contest and to allow you to get lots of Cookie points! Suggested text in the spot notes: Cookie Crumble Contest
Spotting can be done on any of the spotting websites and is encouraged on the Cookie Crumble Contest Facebook page. www.DXSummit.fi  happens to be a favorite of Tim and Emily.
It is BAD MANNERS to spot the location of either Cookie Monsters and Burnt Cookies. Let others in the contest just stumble across them.
NEVER EVER spot the location, band, frequency of any of the Cookie Monsters or Burnt Cookies.
OTHER FUN and MISCELLANEOUS STUFF:
Important: You do not have to have a Facebook account to participate in this contest. It enhances your experience because other operators will be exchanging stories and spots on the Facebook page.
Post a picture of yourself on the Cookie Crumble Contest Facebook page while operating during the contest and get 350 points.
If the photo of you shows you biting into a cookie, add 425 points. Don't let cookie crumbs foul your key or microphone.
Post a short limerick on the Cookie Crumble Contest Facebook page and get an extra 225 points.
Banter and other jovial conversation is ENCOURAGED during the contest on the Cookie Crumble Contest Facebook page.
Should you suffer from indigestion from consuming too many cookies, then seek immediate medical attention or drink copious amounts of milk.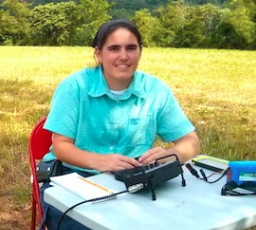 This contest is a joint venture between Emily Saldana – KB3VVE and Tim Carter – W3ATB. If you have any positive comments send them to Tim.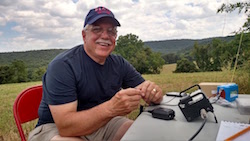 To file a complaint or an official protest, send it to Emily on an official Cookie Crumble Contest Complaint Form. You can make one by tracing a standard postage stamp on a scrap piece of paper and then cut around the outline.