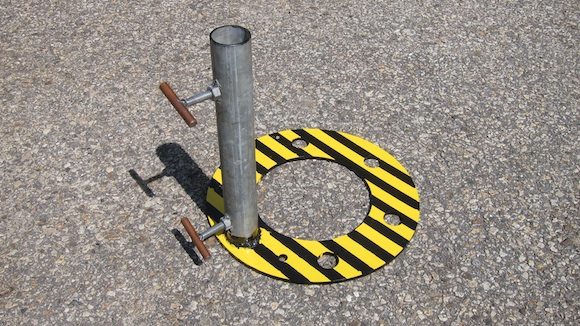 Portable Antenna Mast – Many Types
I've been doing public service amateur radio work since June of 2011. Frequently we need to erect a stable 2-meter antenna to get great simplex coverage at some of the events we work.
A few years ago I was introduced to the durable and versatile military surplus aluminum tubing that connects together with male / female ends. There's even an interlocking tab so the tubes don't spin.
At one event I saw a fellow ham use a patio umbrella stand to support the mast tubing. To ensure the mast didn't fall over, the base plate of the umbrella stand was held to the ground by the tire of the ham's truck.
I thought the umbrella stand design could be improved upon so I talked one day with a fellow ham, John Haven, KC1AAG. I drew up a rough sketch on a piece of cardboard to show John and he thought about how to add the bolts and make the base as light as possible using a ring of metal instead of a solid plate of steel.
The steel ring was a brilliant idea. My guess is the entire support weighs less than 20 pounds. You won't be taking this backpacking, but for a field setup where you operate in the vicinity of your car or truck, it's a good thing to consider. I think the photos do a good job of explaining what's going on.
Be sure to watch the video below of one of these masts being erected by my fellow club members.