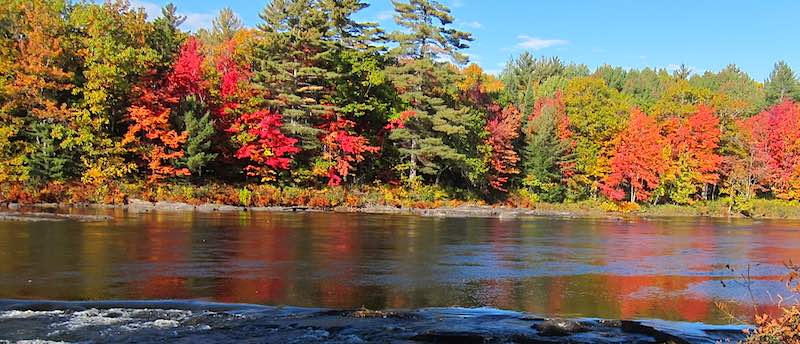 Leaf Peepers QRP Contest
October 2, 2021 1700 UTC to 2100 UTC (1:00 – 5:00 PM EDT)
The Leaf Peepers QRP contest is perfect for low-powered radio enthusiasts who want to peep out their signal to be heard by other peepers. If you decide to set up outdoors in the midst of Mother Nature's once-a-year eye-candy show, your eyes will be rewarded as well as your ears.
Be sure to join the Leaf Peepers Facebook Group. CLICK or TAP HERE

Leaf Peepers QRP Contest FAQs
When: October 2, 2021  from 1700 UTC to 2100 UTC (1:00 – 5:00 PM EDT)
Modes: SSB, CW & Digital
Bands: 160, 80, 40, 20, 15, 10, 6, 2 meters and any UHF band you want to peep on
Power:  5 watts maximum for CW and Digital – 10 watts maximum for SSB
Exchange: Leaf Peeper Stations: RST – S/P/C – Leaf Peeper Number | Non-Leaf Peeper Stations: RST – S/P/C – power output
Suggested CQ:  CQ LP  or CQ Leaf Peepers
Station Classes and Scoring Multipliers:
Home stations using commercial equipment – 1X multiplier
Home stations using home-brewed/kit-built equipment – 2X multiplier
In-the-Field stations using commercial equipment – 3X multiplier
In-the-Field stations using home-brewed/kit-built equipment – 4X multiplier

IMPORTANT NOTE:

In-the-Field stations are not permitted to use permanent home antennas. You can operate from your yard if you want, but you need to put up a temporary antenna. In-the-Field stations are

NOT ALLOWED

to be connected to commercial power and can use batteries, portable generators, solar, wind, hamsters, hydropower, etc.
ALL QSOs count no matter who you work. See below how to account for each QSO.
What is a Leaf-Peeper Station?
A Leaf Peeper Station is an operator who was assigned a Leaf Peeper number. The numbers are assigned for life and you fill out this form to get one. ONLY ENTER YOUR NAME AND CALL SIGN ONE TIME. DO NOT CLICK THE SUBMIT BUTTON MORE THAN ONCE. See note next paragraph:
VERY IMPORTANT NOTE: When you fill out the form for the number and click SUBMIT, only click the button one time. It takes at least ten minutes for your name and call sign to show up below.
Why Should I Get a Leaf Peeper Number?
Dignity, honor, and prestige are just a few of the reasons why you should have your own distinct Leaf Peeper number. Other Peeper operators will pay you more respect, they'll get more points if your call sign is registered in their log, and you'll experience far more fun if you have a coveted number.
What Number Will I Get and How Will I Discover It?
Your number is assigned in the order in which you apply. As soon as you fill out this form, go make a cup of coffee or go for a walk.
Come back to this page after a ten-minute wait and REFRESH your screen. Your name, call sign, and Leaf Peeper number should be visible below. If you don't see it, try REFRESHING the page the next day.
Is There a Leaf Peeper Number Roster?
Yes, you'll discover it below. You can always use it to find your number should you forget it. If you see BLANK spots at the top, SCROLL DOWN to see all the peepers.
What Happens if I Don't Get A Leaf Peeper Number Before the Contest?
You'll just send out your power output in the exchange if you're not assigned a number. Automagic technology assigns the numbers. You may be able to get a number as late as fifteen minutes before the start of the contest. Fill out this form to apply for a number.
Remember, you have to wait about ten minutes or so for the form below to update with your name and call sign. Don't forget to REFRESH the page after a ten-minute wait.
Where Can I Find Leaf Peepers during the Contest?
Most Leaf Peepers will be peeping at, or near, the common QRP watering holes. CLICK HERE for the most common QRP frequencies.
Leaf Peeper Scoring Guide:
Scoring is easy and it's an honor system.
Any and all QSOs with any station in the world count to your total score.
Basic Scoring:
A QSO with a Leaf Peeper Station = 5 points

A QSO with a Non-Leaf Peeper Station but QRP station = 3 points

A QSO with a QRO station = 1 point
You'll know it's a Leaf Peeper if she/he gives you their number. You can always CHECK after the contest by doing a FIND search on your browser of the roster at the bottom of the page.
Ask the operator for their POWER output. If they're confused and don't answer, just put them in the QRO pot.
If you work operators in some other QSO party and they're in a hurry to kick you to the curb, then just put them in the QRO pot.
Step One: Add up the total of your QSO points. Now it's time to apply the two multipliers.
Step Two: Look at your log and count up the total number of different S/P/Cs across all bands. Each unique QTH only counts once even if you have the same state, province or country on a different band.
Multiply the total of the unique S/P/Cs times your total QSO points.
Step Three: Now multiply that big number times your Station Class multiplier. Those who brave the elements and set up out in the field with home-brew or kit-built equipment have the biggest advantage.
But realize all you get is a bunch of happiness and bragging rights should you win the contest.
Example Scoring Calculation:
Let's say you end up with a total of 146 total QSO points, your log shows you have 13 unique S/P/Cs, and you were portable in the field with an Elecraft KX3 that came to you ready to use. Your total score would be:
146 X 13 X 3 = 5694 points (NOTE: Don't put commas in your final score – just the numbers)
Where Do I Submit My Score and When is it Due?
Fill out this form as soon as you have your score and you'll see your score, as well as all other submitted scores, at the bottom of this page in the narrow spreadsheet on the right. There is no due date. Share your score when you can.
NOTE: Your score will automagically appear below in the spreadsheet after a 15-minute wait period. Please only submit your score one time.
Be patient for it to show up on the spreadsheet.

Submit your score as soon as possible so you enjoy the longest period of bragging rights. There is no deadline to posting scores because the spreadsheet below automagically updates usually within 15 minutes after you submit your score.
Click here to view the 2020 Scores.
Click here to view the 2019 Scores.
Click here to view the 2018 Scores.
Don't forget to REFRESH the page after 15 minutes to see your score.